ANON trains you for LifeSkills!
ANON is a social NGO, promoted by Mrs. Arti Girdhar, a philanthropist and educationist, who has been instrumental in training tens of thousands of school children on various health related issues for free & is dedicated to the cause of promoting and enabling wellness and living standards, for an all- round welfare of the society.

ANON has been working as a catalyst in bringing holistic health solutions for sustainable livelihood with primary focus on physical and mental health awareness among the children, adolescents, youth, teachers and parents.

Today it has become a necessity to train our younger generation on living their lives the new way, without impacting their well-being and health.

Schools have been associating with Anon to empower various stakeholders on today's most sought after topics – Gender Sensitization and Prevention of Children from Sexual Offences, while empowering students on various other topics.

With this mission in mind, ANON is on a drive to train the students of this region on various LifeSkills, through its well-articulated & designed courses which are delivered by eminent experts in interactive sessions of 1 hour each, delivered in both offline (at school) and online mode.
Our Vision & Mission →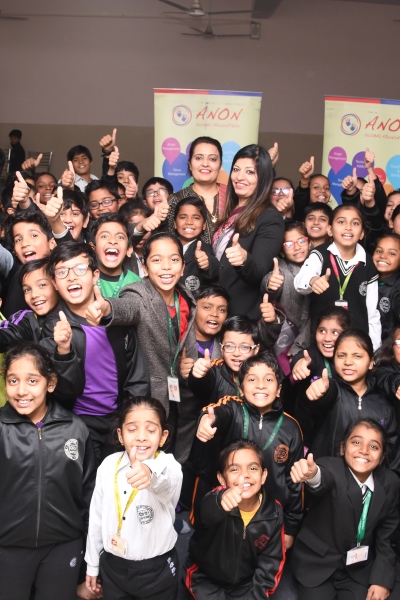 Our Modules
Mental Health
Anger Management • Anti Bullying • Stress Management • Motivation • Happiness • Art of Parenting • Building Optimism • Body Language
Lifestyle
Technology Addiction • Substance Abuse • Lifestyle Management • Health & Hygiene • Online Gaming Addiction
Social Issues
Good Touch & Bad Touch • Gender Sensitization • POCSO Act • Corporal Punishment • Cyber Bullying & Cyber Safety
Become a Student Volunteer
Click the link below to contact us and become a student volunteer.